Hemp Long Sleeved Thick Jersey Knit Shirts for Women
Description
Heaven Sent!
Rosie here, it has been a long while since we've been inspired to offer you something made by another company on dearlildevas.
The company that makes these wonderful shirts has been in my life for almost two decades as trusted suppliers and friends.
The style is fantastic - what a gorgeous cut and drape.
The length is very long and even longer in the back; as though they were designed just to go with our dream pants!
A very special thick jersey knit of 55% Hemp and 45% Organic Cotton, and oh, did I mention the colours??!! 
Features
THE FABRIC 55% Hemp and 45% Organic Cotton Thick Jersey Knit. This is a very special fabric, I haven't ever seen it in mainstream stores, has a similar feel to a linen knit, but stronger, more durable and softer.
THE DESIGN  A beautiful long shirt - almost a tunic length. Longer in the back than the front.
CARE Machine wash cold, hang to dry.
THE HIGH-QUALITY CONSTRUCTION Made in Canada by a company that has long been in Dear Lil' Devas supplier circle.
Sizing Guide 
I personally should wear the Medium size (the black shirt in the pictures), but I love to wear them larger than that; the dark moss coloured shirt is a large and the XL aubergine at the lake (purple has been great fun for me this year!). 
Keep in mind that these are ACTUAL measurements of the shirts. They do stretch, and the stretch looks good in some spots (like at the chest), but they shouldn't be tight around your waist. 
The best way to tell your size is to measure a long-sleeved tee that fits you well in order to compare with the measurements below.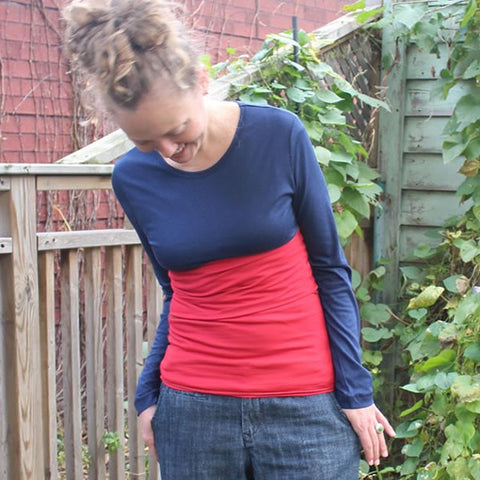 Sorry, we're down to the last colour of this beautiful fabric, last, but NOT least; the lilac is really lovely! What is a Core Warmer? Traditionally known as "Haramaki" in Japanese culture. Hara meaning...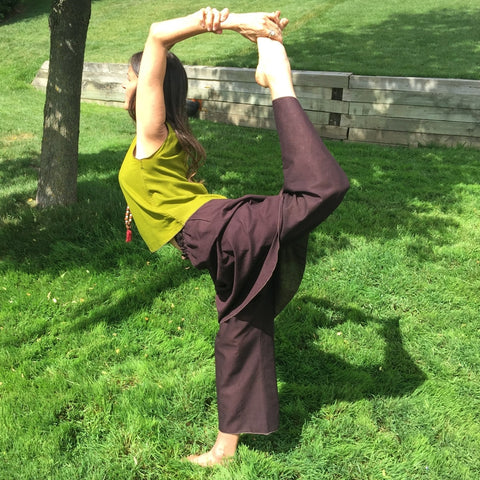 Rosie here, I think this may well be the most versatile item that we have ever made!!! The adjustable soft yet strong elastic drawstring allows this piece to be: 1) An additional layer...