Clearance: Navy Bamboo Tank Tops for Women Size XS
Description
This clearance page contains the colour Navy in the size XS.
Designed with comfort in mind, these versatile tank tops are made with a beautifully light-weight soft jersey knit fabric blend of viscose of certified organic bamboo and certified organic cotton. And true to Dear Lil' Devas decade-old mission: "without a stitch of lycra". Dear Lil' Devas bamboo fabric is very special because it is knit and low-impact dyed right here in Southern Ontario.
Features
THE FABRIC Made from a beautiful soft knit fabric that has been prepared in a special environmentally-friendly way.
MOISTURE-WICKING This fabric has amazing moisture wicking properties - without any added chemicals. 
FABRIC FINISHING Finished without the use of chemical solvents, chlorine bleach, optical brighteners or other allergens like silver nitrate.
LINED BUST
LONG LENGTH Comfortable when raising your arms
THE HIGH-QUALITY CONSTRUCTION Made in a relaxed, benevolent, non-factory environment in Canada by Dear Lil' Devas ~ Yoga Clothing and Accessories Infused with Good Vibes!
Fabric
Dear Lil' Devas Bamboo Fabric - knit into fabric and finished locally!!
70% Viscose from Bamboo | 30% Organic Cotton
Bamboo fabric is ideal for exercise wear. However, all bamboo fabric is not created equally. After much research Dear Lil' Devas found the bamboo fabric that meets our environmental, ethical and quality expectations. And guess where we found it? -- Being finished right here under our observant noses in Southern Ontario, Canada!
Environmental Impact
Bamboo is a forestry product, so the natural eco-system stays in place. There is no need for pesticides, herbicides, tilling or replanting. Bamboo groves return a huge amount of oxygen back to the atmosphere in comparison with other types of forests.
Eco and Worker Friendly Our bamboo is grown solely in bamboo groves that have FSC Certification, and OCIA/NOP 
International Organic Standards Certification Our knit of 70% Viscose from Bamboo yarn and 30% Organic Cotton yarn has the European Oeko-Tex 100 certification and is produced meeting ISO 14001 standards. 
Bamboo Yarn The bamboo used in Dear Lil' Devas bamboo fabric has been pulped and spun into yarn using a clean, modern viscose process. The result of this process is a high modulus yarn - could be called the "Pima Cotton" of bamboo, offering excellent luster, softness and durability. 
Fabric Finishing Process Fabric is knit and dyed in Canada. 
Low Impact Dyed Our unique single jet-dying process has been developed to have the lowest environmental impact possible. The fabric is prepared for dye using hot water and a mechanical process only (scouring). The dying is done using small quantities of environmentally friendly dyes free of heavy metals, chlorine, solvents, optical brightening chemicals, or any other toxic chemicals. 
No Antibacterial Chemical Treatment Silver Nitrate is the main ingredient of the anti-microbial treatment that is very often applied to mass-produced athletic wear and shoes. It is not applied to DLD items. 
Dear Lil' Devas Non-Factory, Local Sewing Environment Because we do not mass-produce our items, we are blessed to be able to maintain a benevolent and interactive design and sewing environment. The local women who are a part of Dear Lil' Devas are relaxed and dedicated. By using beautiful materials that we consider to be a gift from nature, putting those materials into high-quality, timeless designs, and sewing them up in an unhurried, mindful atmosphere, we've got some really good vibes going on here. We believe that those good vibes translate into the final products, and in turn are transferred to you. Namaste. 
Please contact rosie@dearlildevas.com if you have any questions about the information provided above. It has been compiled with the help of Dear Lil' Devas' suppliers, and we are happy to receive questions and comments from you.
Sizing
Please note: the sizing for the tanks is generous - if you're in doubt, go for the smaller size.
Sorry, not currently available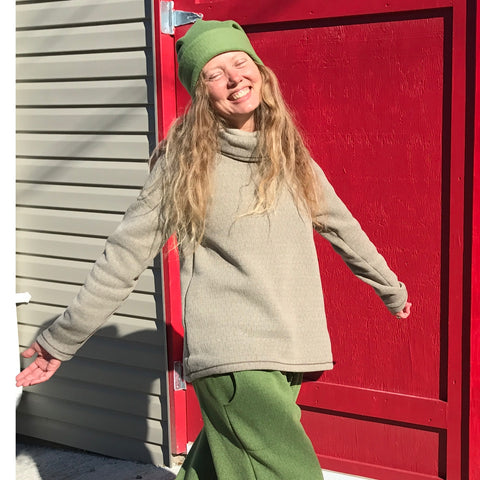 Miso: HIGH-Collared in Large. From November, 2017:Two Collar Choices for these raglan-sleeved sweaters (and yes, the raglan-sleeve style is the same as the sleeves on the tunics/sweater-dresses :-) Just shorter in the body than...