Clearance: SWEATERS Raglan Sleeved - WARM Textured Thick Specialty Knit Fabric Fleecy Inside
Description
Miso: HIGH-Collared in Large.
From November, 2017:
Two Collar Choices for these raglan-sleeved sweaters (and yes, the raglan-sleeve style is the same as the sleeves on the tunics/sweater-dresses :-) Just shorter in the body than the tunics and without pockets.
The high collar is not tight - it doesn't hug your neck, but is close enough to provide lovely warmth. The low collar is also lovely of course! (Please see the pics).
While supplies last.
Features
THE FABRIC This beautiful 80% Cotton | 20% Polyester has a pattern (texture) on the outside that causes it to look like wool from a distance. Up close, it is soft to touch. Being a knit fabric, it is stretchy - perfect for bundling yourself up elegantly this winter!
GARMENT CARE: Machine wash cold, hang or lay flat to dry, do not iron.
THE HIGH-QUALITY CONSTRUCTION Made in a relaxed, benevolent, non-factory environment in Canada by Dear Lil' Devas ~ Yoga Clothing and Accessories Infused with Good Vibes!
Sizing
What Size Are You? 
The sweaters are designed to be loose-fitting. If you're normally, say a large, and you want the sweater to be more form-fitting, you will definitely get away with a medium. They are designed to fall below your waist-line. Measure:
Sorry, not currently available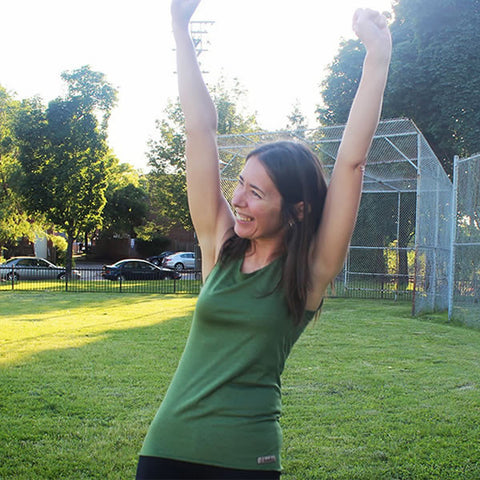 This clearance page contains the colour Navy in the size XS. Designed with comfort in mind, these versatile tank tops are made with a beautifully light-weight soft jersey knit fabric blend of viscose of...